SEATTLE/BELLEVUE REAL ESTATE MARKET UPDATE - DECEMBER 2022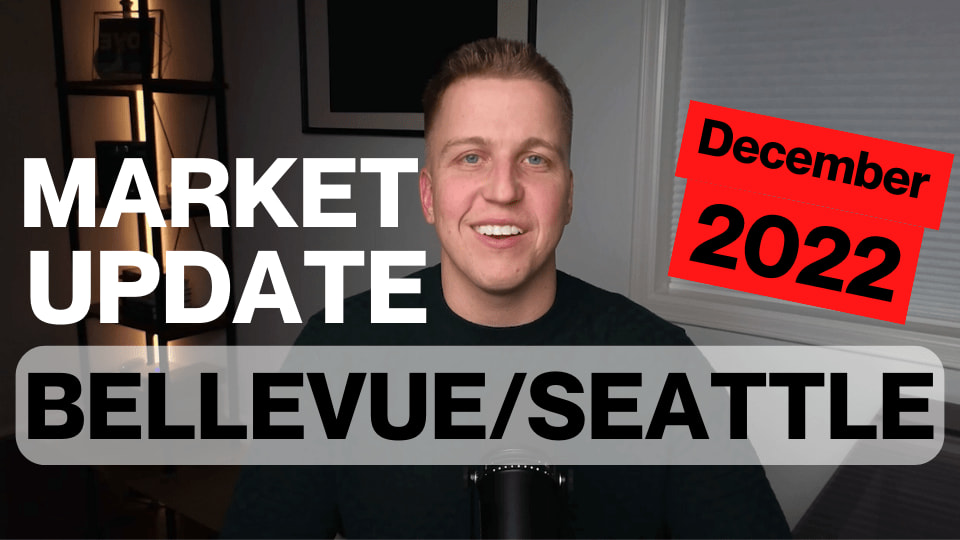 Well, it's officially December and the crazy year of 2022 is coming to an end. And so in this video, we're going to do our final market update for the real estate housing market here in the Pacific Northwest, Seattle and Bellevue areas. As always, this video is going to be very high level. I'm only going to share what it is that I'm seeing by selling real estate and being day in and day out, having conversations with clients to kind of give you an idea of what's going on.

If you want specifics or data that pertain to your neighborhood or your situation, reach out any time. But let's get right into it. So there's no secret if you're paying attention or if you're watching the market, things are definitely much slower. All right. We all remember the year started with a crazy frenzy. We all saw record breaking sales and multiple offers.

It was just madness, right? And now the situation is looking very different. And we've talked about in the previous videos, there's a multitude of factors, real estate, not real estate, but the inflation and the Fed raising interest rates has been probably the biggest contributor because now it's a lot more expensive for buyers to get into a home because the prices have come up, but also because the rates are more than double.

Also, a few other headlines that have not been helping our regions specifically have been the layoffs in the tech sector. So there's many large employers that have announced either doing budget cuts or freezing hiring or laying people off. Even Amazon said they will be, unfortunately, having about 10,000 job cuts in the near future. So in the grand scheme of things, how big these companies are, it's actually a small percentage of their workforce.

But still a lot of people are on edge as we continue to head towards this recessionary period. And it makes a lot of sense if if their jobs don't feel secure, people are less confident making a large purchase like a home. Another thing that's really not helping, as are the headlines, have been brutal. My recommendation would be don't really just read the headlines.

Dig in to try to understand if you're interested in the housing market itself, talk to somebody who's in it and get the real perspective versus just getting the headlines because they are gloomy and they don't always tell an accurate story. As an example, we'll look at it. Things like these are just from few days ago in the Business Journal.

Median home prices tumble across East Side. And yes, the prices have soft end. But I would not say they have tumbled another one in the Seattle Times, ones on fire. Seattle area, home prices hit a bucket of cold water. Right. So it seems like it's a headline that would wake you up and cause you to pay attention. But let's remember that their businesses to get clicks and they want you to click on it.

Right. The bucket of ice water, it seems like things are really gripped The number of transactions have actually been rather significantly lower. So if we look at November year over year number from November 2021 to 2022, in Seattle, closed sales are down by 44% and same on the East Side. So across the board, over 40% less transactions are happening.

And a lot of it is due to what we just talked about, high interest rates, so more buyers are on the fence or waiting for the prices to cool off. And we're also now back into the seasonality of real estate as we get into December, the holidays, there's just less things happening. And that has been the case all the way up until just the last two years, which were the exception.

But one thing to notice is even though less homes are selling, the prices are actually holding up. And if we look at it, Seattle actually year over year. So from last November to this November, still appreciated. It was only a six and a half percent change. But for a one year, that's a rather significant appreciation. East Side actually did pull off a little bit, 7.8% year over year.

That's what that article headline pertained to. Right. Things have cooled off, but they are far from tumbling because we have to remember how much these home prices have appreciated over the last few years. And I saw this online. There was a presentation that I watched to give you some perspective, what would happen if prices actually dipped by a significant amount?

Very few people are predicting they're going to drop by 25%. So if the prices come down by 5%, it only brings us back to where the prices were for homes earlier this year. If they come down 10% and October of last year, 15%, June of last year, 20%, February of last year and if prices dropped 25% across the board, that would bring the median sales prices down to October of last year.

It's important to put things in perspective to where, if we only look at the data over the last 12, 24 months when the market was a crazy frenzy, things do look drastically different. But if we kind of zoom out and look at the bigger picture, market is simply normalized. Not great. And if we need to sell, I know you wish it was earlier in the year when it was still a frenzy.

So you could have sold for more. But unfortunately, that's not where we are. And then another interesting chart to take a look at, piggybacking off this whole price appreciation topic. So what has happened and how much have these different markets appreciated up to the start of the pandemic? And then what has happened since the beginning of the pandemic?

And we already have covered in previous videos of the last two years since COVID, it has not been a normal market. So if we look at Seattle, where we are, we can see that from 2017 to 2020. The Seattle market has appreciated by 15%, which has been a strong number in the grand scheme of things. But then if we look at what's happened since March of 2020, again beginning of COVID, up until just last few months ago, it went to Seattle market has appreciated by 39%.

So it's taking the whole Pacific Northwest or greater Seattle metro. So now when we do see prices pull off by 5% or 10%, maybe they'll come down even a little more by 15% wherever it is. We must remember that they have gone up by 40% in a very recent history, but it's not basically we're nowhere near dropping down below pre-pandemic level with all this information.

I told you, we're going to keep it at a high level, but now I'm just digging into too many numbers, so let's pull back again. What would be my recommendation? So as I mentioned, things are slower. We do expect things to continue to be a little slower throughout month of December through the holidays. I think a lot of people are waiting who would be selling or willing to put their house on the market after the holidays because historically they don't expect it to be a lot of activity.

So if you a seller, I guess depending on what your situation is, usually most people would think that winter time in holidays is a bad time to go on the market. And you should wait until spring. And there's some truth to it, right? The days get longer, the weather gets nicer, more buyers are out looking. The counterargument that would be is that if everyone's thinking that and everyone's holding off until putting their home in the market till spring, there's actually less inventory in the market today.

So depending on your timeline and your situation, I think there could be an argument to be made whether if you want it to go up sooner than later, you could do okay or if you do wait till after the year. I think my recommendation would be to consider a listing either maybe second part of January or early February, but try to beat the spring rush before all of the sellers for who are waiting to enter the market.

When we'll see an influx of inventory and buyers will just have more options and you as a seller will have even more competition, hopefully inflation. We're eagerly awaiting the upcoming inflation. CPI reports and what the Fed is going to do again if their efforts in raising the rates continue to work and the inflation number, the CPI number is starting to continue to come down.

I think that would be some favorable news and maybe that's going to cause the mortgage rates to tick down a little bit or stabilize or at a minimum is going to give buyers more confidence to go out and purchase and if you're a buyer in this market we've talked about in the previous video, it's tough because earlier in the year you had the challenge of competition and bidding wars and try to write a winning offer and waive all contingencies.

So it was really, really challenging for a lot of buyers out there. Now things have changed drastically. We're still in a seller's market, but if you look at months of inventory, we had around two months of inventory here in the King County, but you do have a lot more options. There are sellers who are willing to negotiate, and you could actually get a lot of concessions worked into your deal to make it a better deal for you as a buyer.

So I would encourage you to start looking in again. The inventory is fairly limited now through the holidays. We do think that we expect there's going to be more inventory early in the year, but if you come across, that's a great deal. It might be a great time to buy. I actually just had a client recently who purchased in Seattle.

He wanted to buy in Seattle two years ago. They weren't my client back then, but they attempted, they kept getting bid out and they just got priced out and they couldn't compete and could not enter the market up in the Greenwood area where they wanted to live. So they had to go further out the bottom. Apple Valley lived there for two years, but now they just sold this house and now they wanted to make their way back into the city and they were dealing with the similar thing a lot of people are dealing with, right?

Their rates are higher, so their payments are much higher. But they also understand that if the rates were lower today, just we would have been facing the same thing that we were earlier in the year. So the house that they just buy for $600,000 with the higher rate would most certainly gotten bid up that we had to beat out multiple other offers.

They would have paid a lot more and maybe their payment in the short term would have been slightly lower. But the price of a home and their ability to negotiate a good deal for themselves would have been much, much more challenging. So they really gave it a lot of thought and they realized that, okay, well, they might be a bit of a stretch, but they can afford the higher payment today.

So worst case scenario, if the rates don't come down, they're stuck with the game that they have, but they can manage it within their budget and that's a good thing. But more than likely, what a lot of experts expected is going to happen is that rates will come down eventually. It's going to be in six months, 12 months, 18 months, and none of us really know.

But they should come down and stabilize it. And when they do, they'll have an opportunity to refinance. And basically having had an opportunity to get into the neighborhood that they want and then get their payment lower and not pay a crazy price that they would have paid earlier in the year. So we are starting to see more and more opportunities for buyers.

Everyone's situation is different, right? And again, if you're not certain if your job is secure, there's lots of things that affect maybe this not the best time and maybe you should wait and see how things shake out. But if you know where you want to be and you can afford it today I would start actively looking and negotiating aggressively to get you and your family the best deal.

So that's pretty much it. It's been a crazy rollercoaster of a year. I do think next year prediction is that I think the market's going to be a little slower. We'll see less transactions, but things will just continue to move along. There's always people who need to buy and sell and you can't really time the market. We talk about it every month, right?

You have to make a decision that's best for you and your family and you never know what the market is going to do if you have any questions specifically about your situation in your neighborhood, if you need any help as it relates to anything real estate, I would love to be a resource for you. Thank you for tuning in and I'll catch you next year.